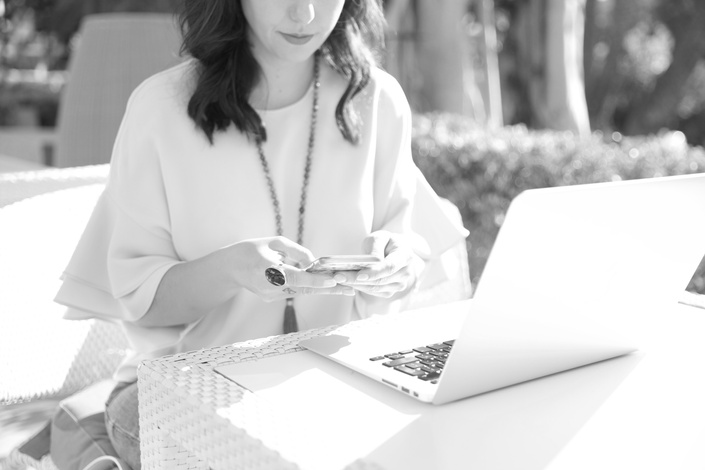 WILD WEALTHY ACADEMY
Create, Grow & Elevate Your Business & Life
FOR WOMEN ENTREPRENEURS AND COACHES;
LEARN THE BUSINESS OF COACHING, ONLINE; YOU.

There's been a shift, can you feel it? What once worked is no longer working. You see others crushing it and are wondering what they're doing that you're not!?

You're an intelligent, driven woman; fierce about making a positive impact and change (this is bigger than you!) and know you have something incredible to offer. Others look at you as a role model, asking for your advice and think you have it all - you've experienced success before but perhaps right now it feels like there's a missing piece of the puzzle!? Something you're not seeing? UGH!
Welcome to Wild Wealthy Academy! This is where you align with your true soul-desires, bring your gorgeous business and lifestyle vision FULLY to life! LET'S DO THIS!!

This is the place where your business transforms to thriving success and your life feels as good on the inside as it looks on the outside. #itsallpossible

Because, let's face it: you are DONE and not going to continue another month feeling overwhelmed, frustrated or lost in the social media circus. Now is YOUR time to shine!

You know you're here to create a big impact and you love the work that you do but you crave more ease and flow. We are all being called to higher levels of consciousness and if you say YES to your soul, you will see your desires and vision being created, before your eyes, FAST!

Your dream clients are looking for you right now and your desires are in your heart and imagination because they already exist and are meant for you.

They're simply waiting for you to BELIEVE you can have them. So it's time to start doing just that.. CHOOSE to run a business that fills your heart AND your bank balance.

IT STARTS WITH A (#NOBRAINER) DECISION 👇🏻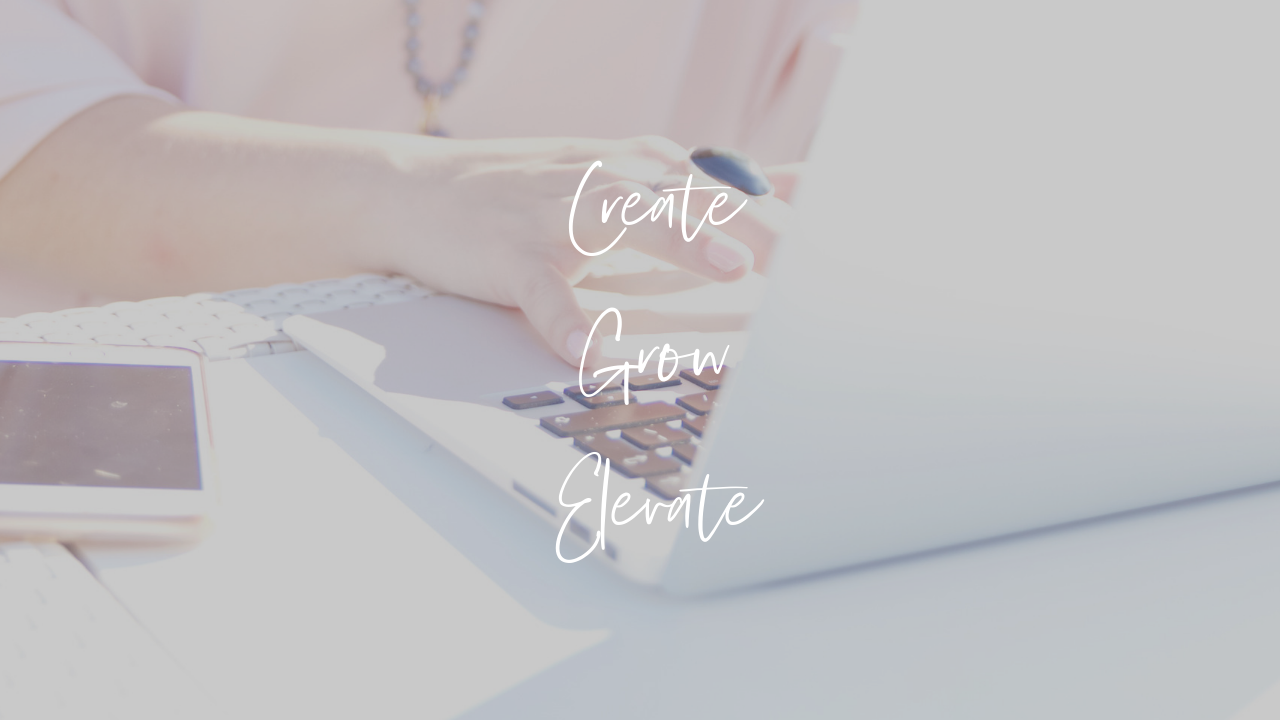 For Women Entrepreneurs & Coaches who want it all!
Wild Wealthy Academy is where mind-body and higher wisdom align, you tap into your intuition and soul-desires and you step fully into your purpose and power to create what you desire NOW!
Work through the modules in your own time and be guided through the processes and transformation that I take my high-level clients through, that often sees them going from charging by the hour for their services; to six figure+ and booked out in their businesses and coaching practices.

This is the place where your business transforms to thriving success and your life feels as good on the inside as it looks on the outside.
Because, let's face it: you're not going to continue another year overwhelmed, burnt out or broke!
CREATE, GROW & ELEVATE YOUR BUSINESS - YOU WILL 👇🏻
PART 1 - CREATE 💥
✓ VISION - getting clearer on your big vision, year ahead and what's now
✓ DESIRES - connecting to your heart's desires and clarifying your messaging
✓ IDENTITY - unlocking your true identity and full power
✓ PRODUCTS - turning vision into products and profit
✓ PLUS - simple business & client creation models
.
PART 2 - GROW 💵
✓ MINDSET - programming your mindset to prepare for launch and share your message with confidence
✓ MONEY - transforming your wealth consciousness and management
✓ VISIBILITY - showing up confidently and consistently, to connect with your soul-mate tribe and clients, creating clients before you 'launch'
✓ PRESENCE - creating and growing your online presence, authority and reach: website, e-mail lists, social media, video, press, books, 'opt ins', challenges

PART 3 - ELEVATE 🥂
✓ MEDIA - talks, webinars, podcasts, press, content, videos, audience growth
✓ TEAM - hiring, managing, delegating, growing, shared vision
✓ SCALING - developing new products / programmes / revenue, automation, marketing, price increases
✓ GIRLBOSS - stepping up to CEO / leader of company, transition from business to company, visionary leadership, creating freedom, lifestyle business, leveraging, balancing masculine / feminine
INCLUDES
Online Membership site with 12 modules, training, mediations - everything you need to create, grow and elevate your online business / coaching practice
Join now and get immediate access to:

One month BONUS membership to SoulFire Membership; spiritual practices, business tools and conversations for your highest expression. Online members site and community!
SoulFire Spark Session; mini bundle for your Soul Aligned Success
Your Instructor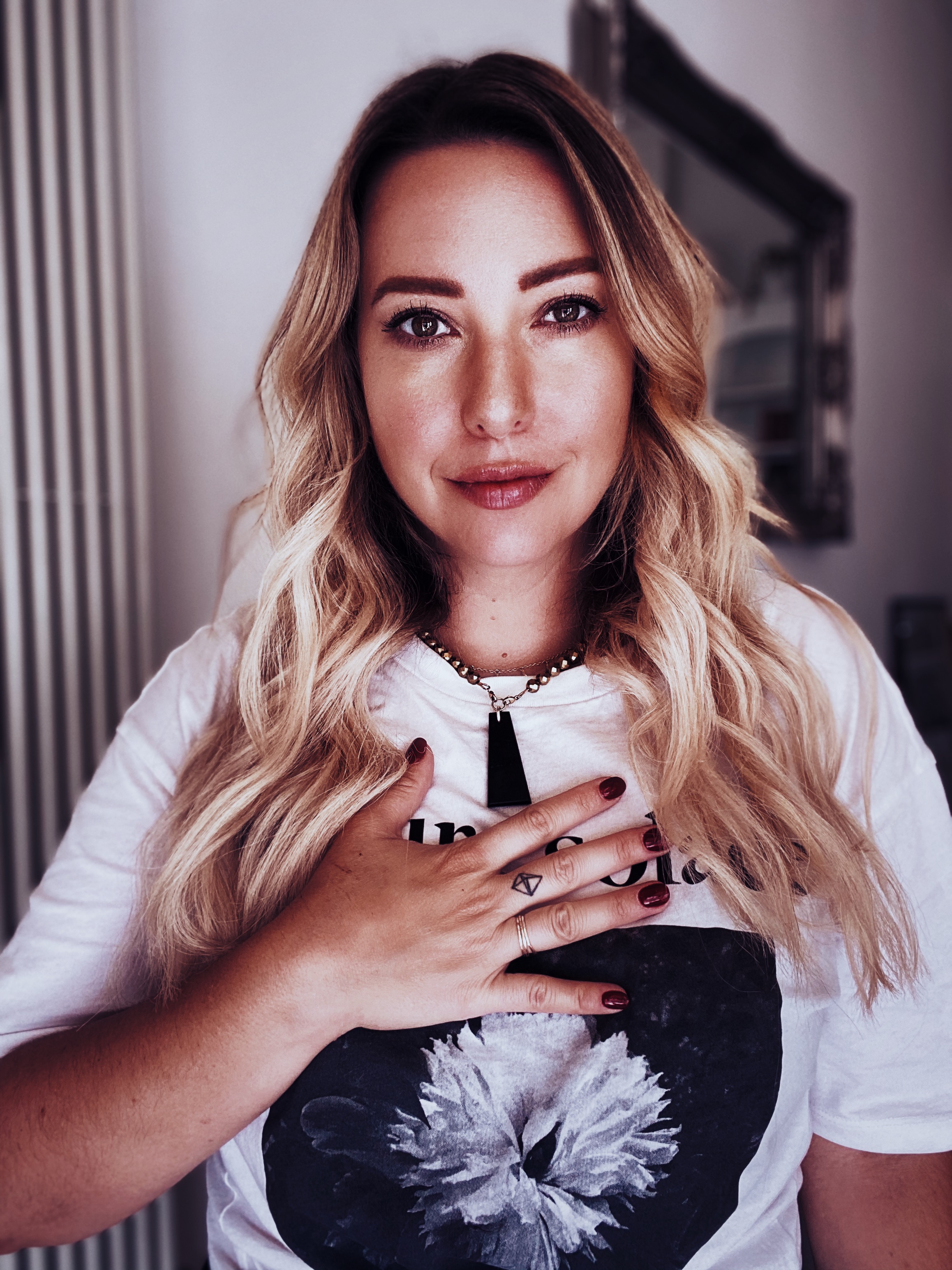 Louise George is an actress, TV presenter, writer, entrepreneur & certified transformational & mBIT coach.

Louise is an experienced, professional & passionate actress and TV presenter, with 18 years experience, having played a range of roles both on stage and screen.

You can currently see Louise in 'Our Kind of Traitor', with Damian Lewis, on Netflix and Amazon, as well as 'City Slacker', which was nominated for Best British Feature at Raindance Film Festival & a BIFA in 2012. Louise has also appeared in one of the UK's longest running & most popular soaps: Eastenders.

Louise is also the owner & head coach at soulfiresessions.co & host of SoulFire Sessions Podcast. She has been an entrepreneur for over 12 years & one of the world's leading life & success coaches since 2014; supporting: entrepreneurs, creatives, celebrities & leaders in taking their lives & businesses to the next level; helping many small businesses grow from 0 to 6 figures + in their first year.

Louise's main focus as a coach is supporting high-achieving, purpose-driven entrepreneurs, leaders & creatives in connecting to their internal compass, creating a positive impact & a life that feels as good as it looks. Her clients have included: coaches, psychotherapists, mentors, consultants, lawyers, barristers, bankers, actors, producers, speakers, writers, musicians, designers, artists & athletes.

As a sought after coach Louise has been invited to speak as an expert, around the world at events such as: The Awakened Woman Conference in Bali, The Positivity Summit In NYC, Vogue Cafe in London & Mind Body Spirit Festival in Birmingham. Louise has also been featured in publications such as: Thrive Global, Psychologies Magazine, Mind Body Spirit, Hay House blog, The Business Journals & Huffington Post.

When not working you will often find Louise in the outdoors: stand up paddle boarding, running, or out hiking with her dogs.
Course Curriculum
Welcome - Wild Wealthy Academy
Available in days
days after you enroll
Create - Modules 1-4
Available in days
days after you enroll
Grow - Modules 5-8
Available in days
days after you enroll
"Magick happens when you join forces with Louise George"
"Wild Wealthy Academy is everything you need to Create, Grow & Elevate a successful, sustainable online business/ coaching practice."
"It's so incredible to have the support of Louise - who is a phenomenal coach - and a group of soulful, ambitious and like-minded women, who have your back!"

Previous high-level clients have applied this work and have 👇🏻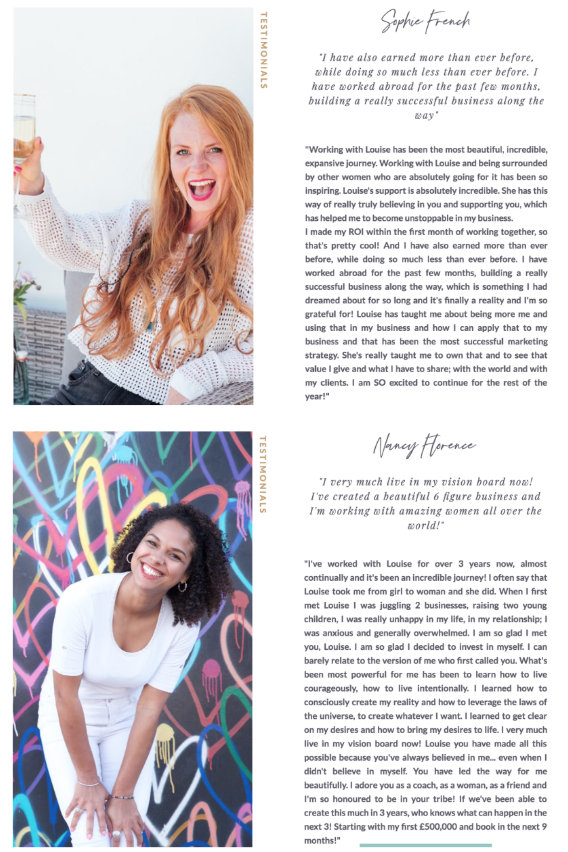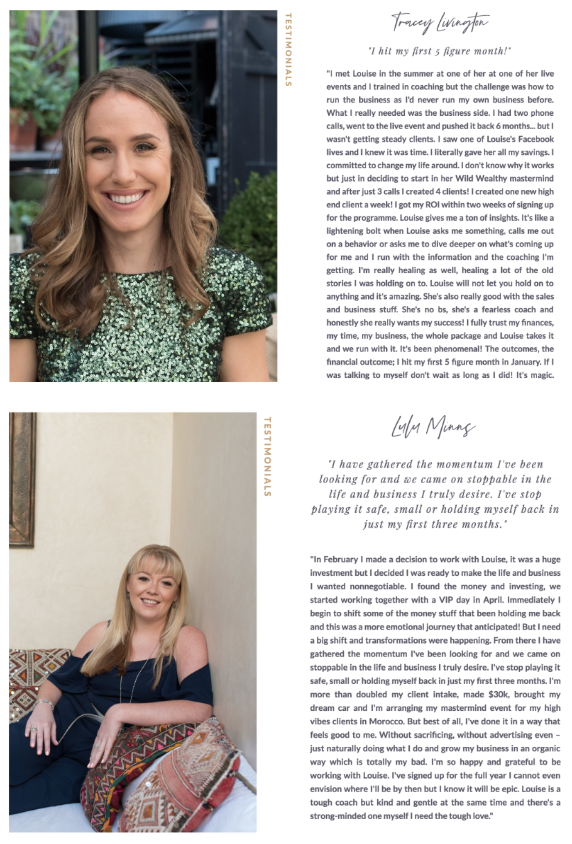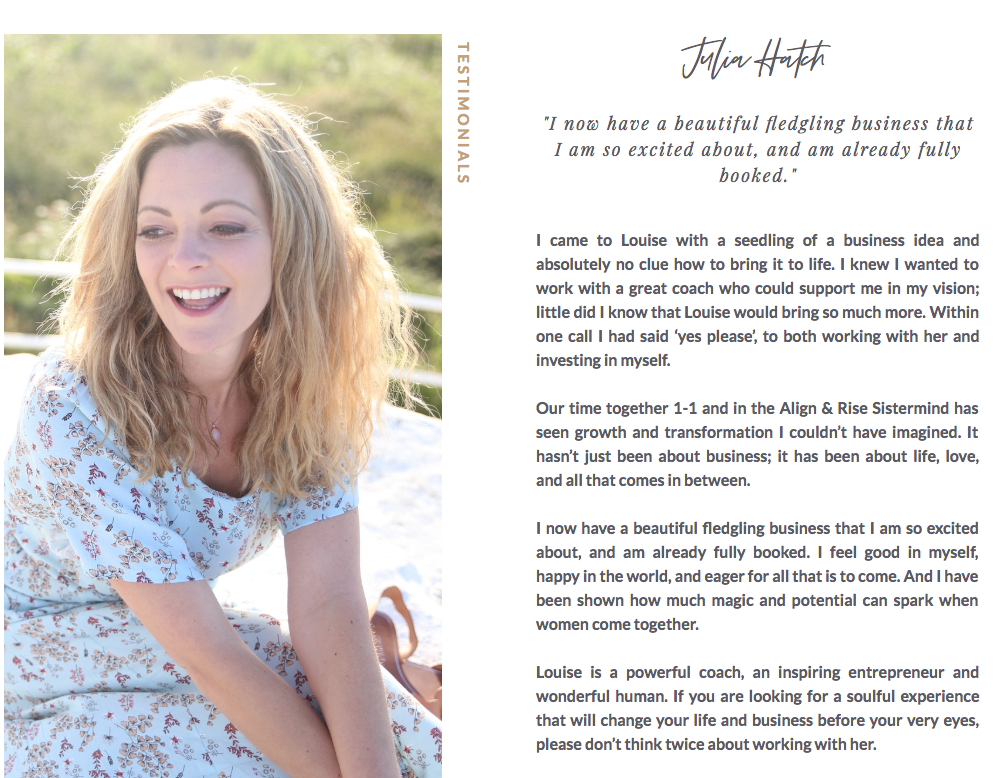 Courses Included with Purchase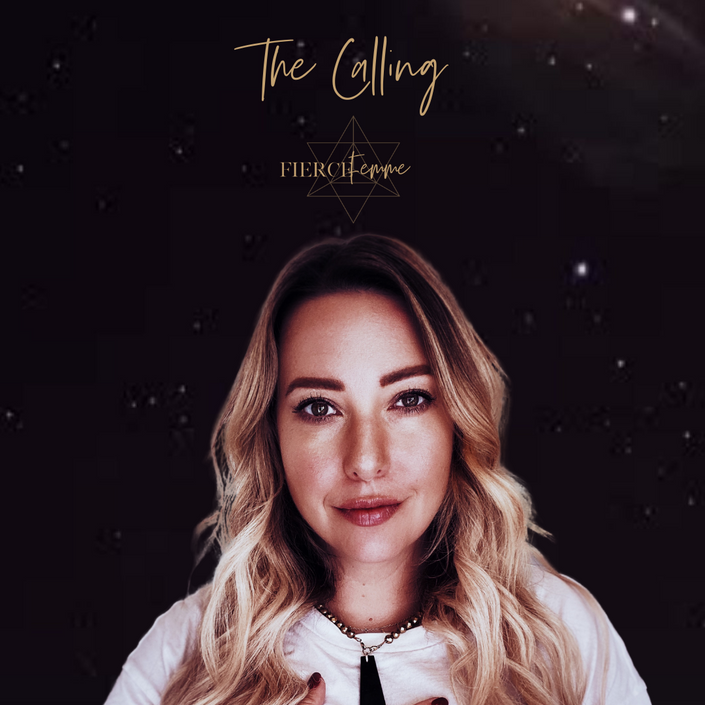 THE CALLING
FREE mini bundle for 'Soul Aligned Success'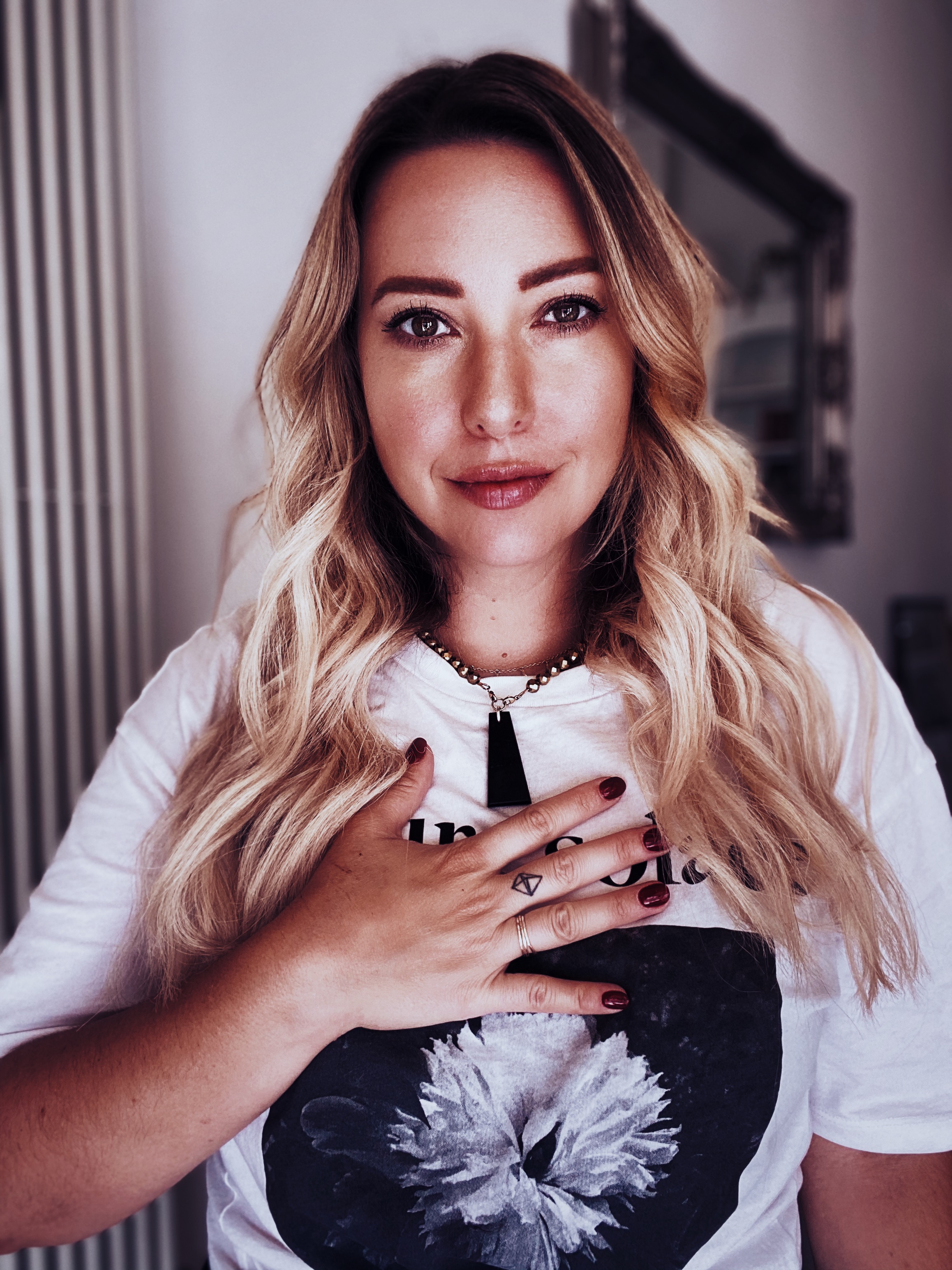 FREE
Original Price: £0